ELECTED OFFICIAL COVER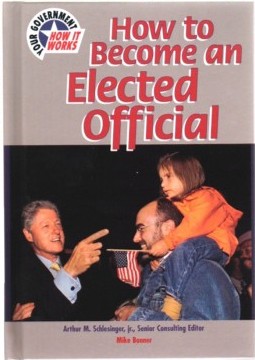 Bill Clinton seeks votes
FROM HOW TO BECOME AN ELECTED OFFICIAL:

On Election Night, the tension rises as votes are counted. Television broadcasters around the nation review each race for Congress, the state legislatures, and thousands of local, city and county contests. As voters leave the polling places, some candidates are winners and others losers. Only the narrowest races still hang in the balance by midnight. Come morning, nearly all the close races will tally final results. The long, difficult election process has ended.

At campaign headquarters, the friends and family of the winners cheer and congratulate the victor. Elsewhere, the losers hear condolences and sympathetic words. In the mind and heart of every candidate, winner or loser, there is pride, satisfaction, and occasionally, regret.

Elections are a big business in the United States. Every even numbered year, elections are held to select the people who will occupy public offices. Special elections are occasionally needed to fill vacancies resulting from the death or resignation of an officeholder. Large and small cities conduct "off year" elections to choose new mayors and city council members.

Every four years, an election is held to decide who will be our President. The U. S. Congress elects the full House every two years. Senators serve six year terms, with one third of that body being up for election every two years. On any given day, there is usually an election of some sort going on in America.

It is easy to see why. Most of the important decisions in the United States are made by elected officials. They determine what policies local, state, and the national government must follow. Becoming an elected official is one of the toughest tasks a person can undertake.

But becoming an elected official can be highly rewarding. All of a sudden, you have a large say in the operation of a sprawling government enterprise. You can raise or lower taxes. You can say who gets health care and who does not. You make the decision if a natural environment gets paved over to make way for new roads, businesses, and housing developments. If you think it is good policy to do so, you can preserve that same environment.

You, the elected official, are in charge of making policy. People look to you for answers because you have the power.

Despite your status as an official, however, you never act alone. There are many other people who help you decide policy at every stage of the process. For example, you have your family, friends, advisors, voters, lobbyists, your staff, the public, and fellow officials to help you make the decisions.

But the one decision you must make on your own is the decision to compete for elective office. No one else can make it for you. There is drama and danger in making the decision. Former President Nixon found running for office so exciting and challenging that he called it "The Arena."

Running for office involves weighing the risks of the race against the possible benefits. A common misconception about the pursuing elective office is that the loser is somehow in a bad way afterwards. This is often not true. Political scientists who study campaigns now say that even losing an election has a hidden positive side. That is because there are social and financial benefits in trying to become an elected official.