An Introduction
The first articles we wrote focusing on vintage football cards came out in the mid 1990s, and the most recent appeared in the spring of 2007.
By necessity, many of the chapters cover multi-sport sets that include football cards, but are not exclusively devoted to them. To examine the football items, and highlight their significance to collectors, we have reviewed a number of multi-sports sets in the book.
"Oh my shin!"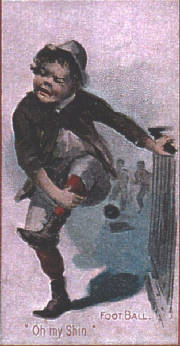 Terrors of America





About Us:
We have written COLLECTING VINTAGE FOOTBALL CARDS: A Complete Guide with Checklists, during the course of a research and writing partnership that began in 1996. Most of the material in this book previously appeared in a modified form in the articles we published in numerous magazines devoted to the card hobby.